Gratitude to you my friends, fellow life travelers and especially Gloria and Anu!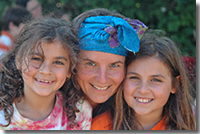 These 2 girls have been contributing to my life in ways beyond imagination. Anu and Gloria have been my mirrors, my Zen masters, my inspiration to life. They are my motivation to keep going and living from a place of Love, care, integrity and compassion. Thank you dear ones!!!
Ravi, one of the kindest and most dedicated and supportive fathers, thank you for being the father that you are to the girls. I am grateful for the immense support that I have gotten from you, recognizing now much more than ever , what you have been providing for us as a family.
George, Ellen, Susanne, LeeAnn, – what can I say to share my sheer awe for your endless hours of listening, your cheer leading, your trust and faith and hands on support. I feel so blessed, so deeply blessed to know that your doors are open. Thank you!
Irene – your positive outlook in life has encouraged me so many times to see the glass half full and over flowing. Working with you and Bob on "What's going on?" cards has expanded my awareness and helped me learn how working in partnership can look. Thank you, Bob, for your honesty and authenticity. Your thoroughness has added a layer of depth that I deeply enjoy.
Douglas, Barbara, Kathleen, Melanie, Sura, Liv, and Holly forming the TC (Trainer circle of the Pudget Sound Network for Compassionate Communication, NCC) – thank you each individual for traveling with me over the years. Many times I perceived you and the NCC as my family. Thank you for holding space for me, giving me a place to be.
Then there is my spiritual community and support, my Sangha sisters, BBB, and Center for Spiritual Living.
Friends - like angels, you have come, left, passing, hanging out, coming back … there are so many of you, and you know who you are! Thank you each of you for touching my life with your grace, contributing and enriching my life in so many ways.
Family and friends – from the old country: my parents, sister and her family, Herta & Heinz, Elsa, Barbara, Franz, Karl, Tobias, Georg, Christine, Martin, … including all their families. Thank you for providing a sense of anchor for me.
These are some of the people who have been supporting me in the process of building my own business: Melissa, Scott, Dan M., Dan C., Paul and Sharon, Cathy L., Suzanne A., -- your wisdom has opened doors for me that I wasn't even aware existed. Thank you!
My support team – George, Garth, Vicki, Kelly, Cornelia, John, Eric, Arch – thank you for your trust and hands on support in creating a container, stronger than I dreamed of.
This list is endless. It will grow, so stay tuned. Perhaps you would like to share a gratitude?
In deep reverence to life,
Elana Sabajon